A constant voltage isolated  stimulator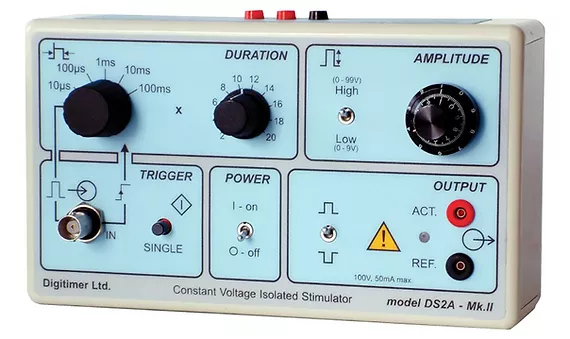 The DS2A Isolated Constant Voltage Stimulator is a low noise solution for electrical stimulation of in vivo and in vitro preparations, in order to excite neurons, nerves or muscle fibres. Battery powered and isolated from its trigger source and ground, the DS2A is designed to deliver precisely adjustable voltage pulses, without introducing noise into electrophysiological recordings. The DS2A will output monophasic voltage pulses of up to 100V, which are widely adjustable in pulse duration and amplitude.
As with our DS3 Constant Current Stimulator the output comes from self-contained alkaline batteries and the unit includes conveniently located battery test sockets. The DS2A can be triggered or "gated" on by a TTL compatible external device, including our DG2A Train/Delay Generator.  The DS2A and DS3 also feature a polarity control switch and a front panel single-shot trigger button.
Low noise battery power supply with up to 99V output
Internal (20µs to 2s) or external TTL "gated" control of pulse duration
Two voltage ranges (0-9V and 0-99V) allow precise reproducible control of stimulus output
Polarity reversal switch
Battery test sockets