Provides steady fine gas bubbles to oxygenate your samples efficiently
Gas is pushed through the ceramic stone creating a fine misty sheet of microbubbles. Microbubbles are desirable for their good surface-to-volume ratio, which allow excellent aeration of the solution. 
As the bubbles aerate the aCSF, they also help circulating nutrients to maintain a healthy preparation for longer hours.
This type of bubbler is much more beneficial than other bubblers of different materials, ie stainless steel or stone. The ceramic material is biologically safe, very strong and long lasting, no corrosion.
The dimensions of the ceramic air bubbler are suitable for Scientific Systems Design (SSD) brain slice chambers and brain slice keepers, also broadly applicable to other chambers, containers, etc.
A CB set is available for replacement of the ceramic air bubbler set in BSK4 or BSK12.
Biologically safe
Very strong and long lasting
Microbubbles for efficient and excellent solution aeration
Easy maintenance
Material: Ceramic
Color: Off-white
Shape: Square profile
Size: 0.5 x 0.5 x 1.75 inches (13 x 13 x 45 mm)
Connector: 3/32 barbed connector (usually supplied fitted with tubing)
    The ceramic air bubbler set for BSK4 and BSK12 includes a ceramic air bubbler (CB), a bracket, an 'L' connector and tubing.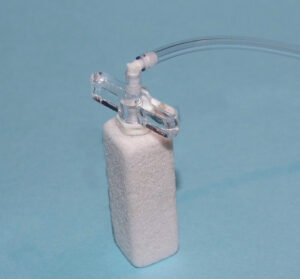 Currently no downloads available